Yep I'm a day late. Yesterday was a blur of appointments and dealing with the aftermath from the car accident. I'm crazed at the end of a 10-31 deadline, so I'll just say a few things:
Tomorrow is the
AUTHORS AGAINST BULLIES
blog tour! Check back here for an interview I did with my kids, for their up-close and personal perspective on this terrible problem in our school. I'll have links to the 50+ authors participating, too.
Don't forget the standalone e-novella of
Wild Hearts in Atlantis (Bastien's story
) went live on October 2nd! If you don't have this story, trust me, you want it! Readers have called it one of the HOTTEST of my Warriors books! Check it out
HERE
! (Scroll down a little for the links to the novella.)
And, in e-novella news, Ethan's book will be released next!! Yes,
Shifter's Lady,
starring panther alpha Ethan and Bastien's sister Marie of Atlantis, will be out November 6th!! Check it out
HERE
!
Finally, I know, I know, the bane of my existence, Alejandro's Sorceress. We're still waiting on processing. I'm tempted to throw this novella in the deepest pits of hell at this point. I'll update when I have news.
But on to the GOOD STUFF!!!
Introducing the awesome
SHILOH WALKER
!!! A little about her latest book:
BLIND DESTINY
is a super-hot and exciting retelling of a tale from Grimm-and the
excerpt
gave me the shivers!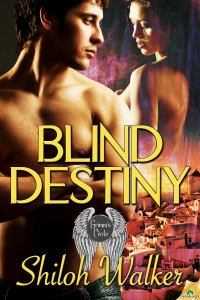 Shiloh was gracious enough to answer my Frivolous Five before she went on vacation - read on for a bit of fun and a chance to win a copy of BLIND DESTINY:
AD. What is your favorite kind of cake? Frosting?
SW: Oh... I'm not much of a cake-eater, but if you put Red Velvet with cream cheese icing in front of me, I'll all but attack it.
AD: If a reality TV show were built around your life, what would it be called and why?
SW: Procrastination Nation. Because I EXCEL at procrastination. Or maybe... I'M TELLING MOM... the highs and lows in the life of your average mom. O.o
AD: Your typical working day: Naps or no naps? Coffee or tea? How many dents in your wall from banging your head against it when you get stuck on a plot point?
SW: I only nap if I just didn't sleep at all. I'm a rebel-I drink coffee... and tea. No dents in the wall. But lots of grooves and lines in the floor from pacing.
SW: Oh, come on. There is absolutely no question here. Ninjas-you could turn ONE loose on a ship and they'd all be dead before they knew there was a problem.
AD: Most annoying commercial you've seen lately?
SW: Any and all political ads? Um, if that's incendiary, then...
Hmmm... I don't watch much TV. And the guy has a habit of muting any and all commercials, but the Progressive commercials with Flo? Those annoy me. However, I will tell you this... I love the M&M commercials. With the little M&M characters? There is this one with the pretzel M&Ms? I love it. It's so cute.
OK, you heard it here first: Shiloh's a ninja girl! For a chance to win a copy of BLIND DESTINY, please tell us in the comments whether it's pirates or ninjas for you, and why!