Welcome to the jump-start of my new blog and the inauguration of Friend's Books Fridays. If you know me at all, you know that I am woefully bad at keeping up at blogging because, frankly, I hate talking about myself.
J
But one thing I love talking about with a shiny purple passion is books. And I have many, many writer friends who write WONDERFUL books.
So, the idea for Friend's Books Fridays was born. Each Friday (unless I have a deadline crisis or a cloud of were-grasshoppers swarms my house), I'll be introducing you to a friend of mine via 5 frivolous questions and a description of her or his new book. Plus—of course!—there will be a chance to win a copy of that book!
With no further blather, let me tell you about Dangerously Talented & Glowingly Red-haired
Meljean Brook!
She writes amazing books about angels in The Guardian series and iron warriors in The Iron Seas novels. You can reach her at her
website
, or at
Twitter
, or
Facebook
. Her latest is
RIVETED
, which is taking the steampunk world by storm!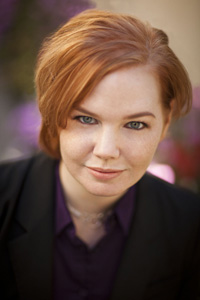 The
New York Times
bestselling author of
The Iron Duke
and
Heart of Steel
returns to the Iron Seas with a riveting new adventure of steamy romance.
A century after a devastating volcanic eruption forced Iceland's inhabitants to abandon its shores, the island has become enshrouded in legend. But the truth behind the legends is mechanical, not magical—and the mystery of the island a matter of life and death for a community of women who once spilled noble blood to secure their freedom.
Five years ago, Annika unwittingly endangered that secret, but her sister Källa took the blame and was exiled. Now Annika serves on an airship, searching for her sister and longing to return home. But that home is threatened when scientific expedition leader David Kentewess comes aboard, looking to expose Annika's secrets. Then disaster strikes, leaving David and Annika stranded on a glacier and pursued by a madman, with their very survival depending on keeping the heat rising between them—and generating lots of steam…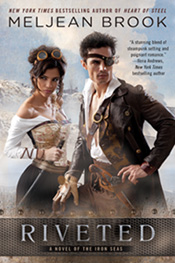 In her own words:
Q: Meljean, your obvious super power is your ability to hypnotize people with your gorgeous red hair. If you were an On The Job superhero, what color spandex would your suit be? And the big question: Capes or No Capes?
My spandex suit would be orange and green -- to match my hair and eyes, of course! I find that color coordination is the most important part of crime-fighting. When I show up in the middle of a dark alley, I need criminals to be awed by my magnificent appearance and overwhelmed by my sartorial excellence! If they are incapacitated by laughter when they get a look at my thighs in spandex, even better. Then I don't have to dirty my orange gloves by walloping them!

And every real superhero has to wear a cape! It would be green and orange checkerboard, and big enough to use as a parachute if I ever fall off of a skyscraper ... and long enough to wrap the entire world in, so that I can warm the hearts of mankind with the force of my love!


Q: If you were to have an unexpected day off from your crazy writing schedule, which would it be: Aquarium, Planetarium, or Zoo?
Zoo! I always like to visit my family and to remember my humble origins.


Q: Confess! What's your favorite go-to snack food during deadline crunches?
Oh, it's Chex Mix! I love that stuff like crazy, and I'm so, so glad that it comes in packages now instead of being forced to actually make it. (The effort of melting butter -- OMG, the horror!) Now and again I enjoy something sweet, but salty reels me back every single time.

Q: Writing to music: Yes or No? If yes, rock, Bach, indie, country, or jazz?
I do love to make soundtracks that fit certain books or series, but those are for the car or when I'm exercising. While I'm writing, I simply can't listen to any music with lyrics. Sometimes I'll choose classical, but movie soundtracks are also great background music. My latest favorite is the soundtrack to Transformers 3 -- I didn't think much of the movie, but I liked the music.


Q: Best movie you've seen lately AND which actor would you love to see cast in an Iron Seas movie?



Best movie: The Dark Knight Rises! I loved it! I thought it was a fabulous end to the trilogy. As for an Iron Seas movie, I'd cast Henry Cavill (the future Superman!) I have absolutely no idea which role he'd play and I wouldn't really care if it was a speaking part, either, as long as he was onscreen a lot. I would just sit there and watch his pretty, pretty, pretty face. I think a role that left him shirtless as often as possible would be best, don't you?

THANKS to Meljean Brook! I've known and
stalked
adored her since we were in the
WILD THING
anthology together. For a chance to win a copy of RIVETED, please tell me in the comments how you would survive in a steampunk world and which
Jeremy Renner
actor you'd love to take with you! Two random commenters (yes, can be international) will win!